Construction Work Nears Completion at McLemore Club
Courtesy of Richard Humphreys
Golf Course Architecture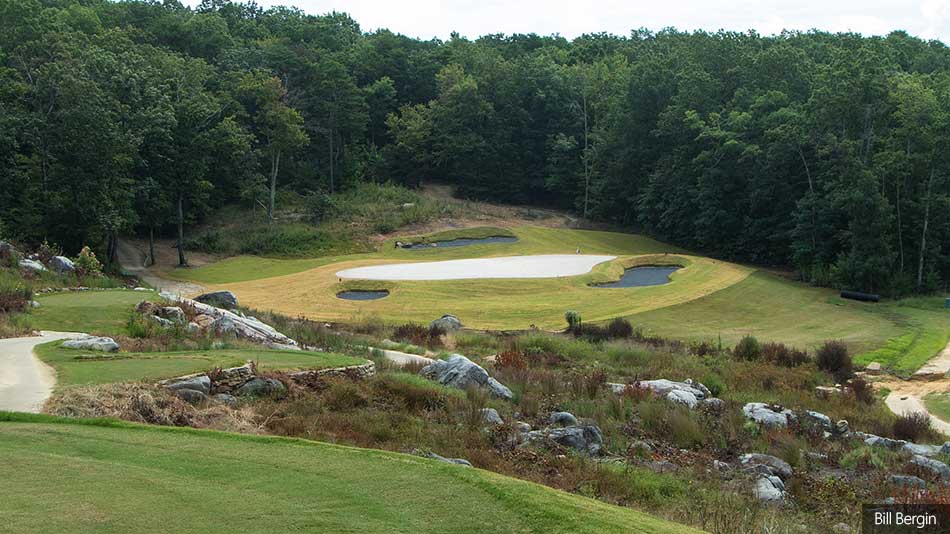 Construction work is nearing completion on the major renovation of the golf course at McLemore Club in Georgia, USA, a collaboration between golf course architects Rees Jones, Bill Bergin and Steve Weisser.
The project at the former Canyon Ridge Club on the plateau of Lookout Mountain seeks to create more variety and add more drama to the mountaintop course, making it a world-class test for the best players, while also being accessible for beginners.
The renovation impacts all eighteen holes and is intended to enhance the green complexes, optimise angles to green locations and improve fairway and greenside bunker placements.
"The biggest changes to the course revolve around the green complexes," said Bergin. "The area around the greens has been enlarged to keep more balls in play. The contouring on the greens will be interesting but designed to allow for more quality hole locations. Enhanced chipping areas will bring more recovery options with varied club selections."
The eighteenth fairway is being moved to a location 100 feet lower in elevation, to the edge of the cliff that overlooks McLemore Cove. Exposed rock outcroppings will be a feature of the right side of the fairway. This relocation will also make space for the new clubhouse on the bluff above the new eighteenth.
One of the most memorable holes on the course, the par-five sixth, features a huge drop in elevation for the second shot. Two bunkers are being removed to allow the fairway to be widened to the left, and blend with the fairway of the ninth hole. An additional section of the fairway will wrap around a rock face allowing golfers to get closer to the edge of the cliff that separates the two sections of the hole. A raised containment at the end of the landing zone that previously restricted the view will be significantly lowered.
"We have added forward tees on every hole, making this a fun course for families, women and seniors. Additionally, we have widened the playable area on almost every hole. This will help with pace of play and reduce lost golf balls on this scenic, yet rugged site," said Bergin.
"The course is blessed with incredible views and impressive rock outcroppings. There are three sections that we call canyon holes, highland holes and cliff holes. We want the actual playing of the game to match the excitement of the terrain."
Construction is expected to end in autumn 2018, with a scheduled reopening for spring 2019.