Original Designs
Every design we do is customized, enhancing what nature offers and with sensitivity to environmental issues.  We get a feel for the land, we listen to the client, and we build a course that we believe has integrity and lasting value.
Because our team members have extensive global as well as nationwide experience, we know how to work in different conditions and find solutions to a variety of issues:
Topography influences the grading process for playability, as does the soil type, the water table, as well as the presence of rock.
Weather patterns in the vicinity.  Is it rainy or drought-prone?  Is there a constant prevailing wind?  Are seasonal changes extreme?  Any golfer who has ever played a finishing hole with the afternoon sun blinding him can understand that sun orientation is a factor as well.
Conservation issues are always in mind, particularly with the use of water.  We strive to preserve grasslands, wetlands and wildlife habitat.
Issues specific to the job location: the local labor force, local restrictions and, in remote foreign locations, equipment challenges.
While we often implement overhead drone photography and video to monitor progress and provide the contractors with quick responses so they can remain productive between our visits, we are very much on-site designers. We emphasize the details, from the start of planning to the finished product.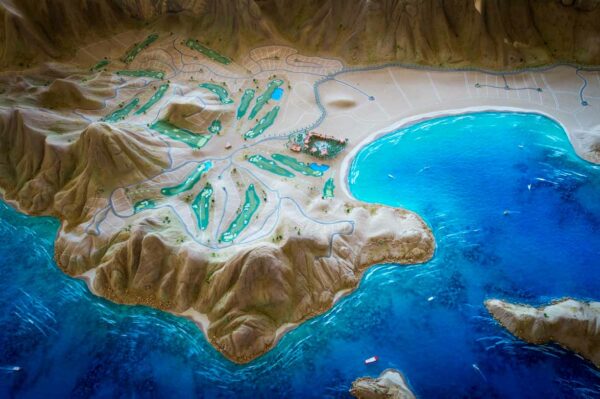 TPC Danzante Bay 3D Rendering