Stewards of the Land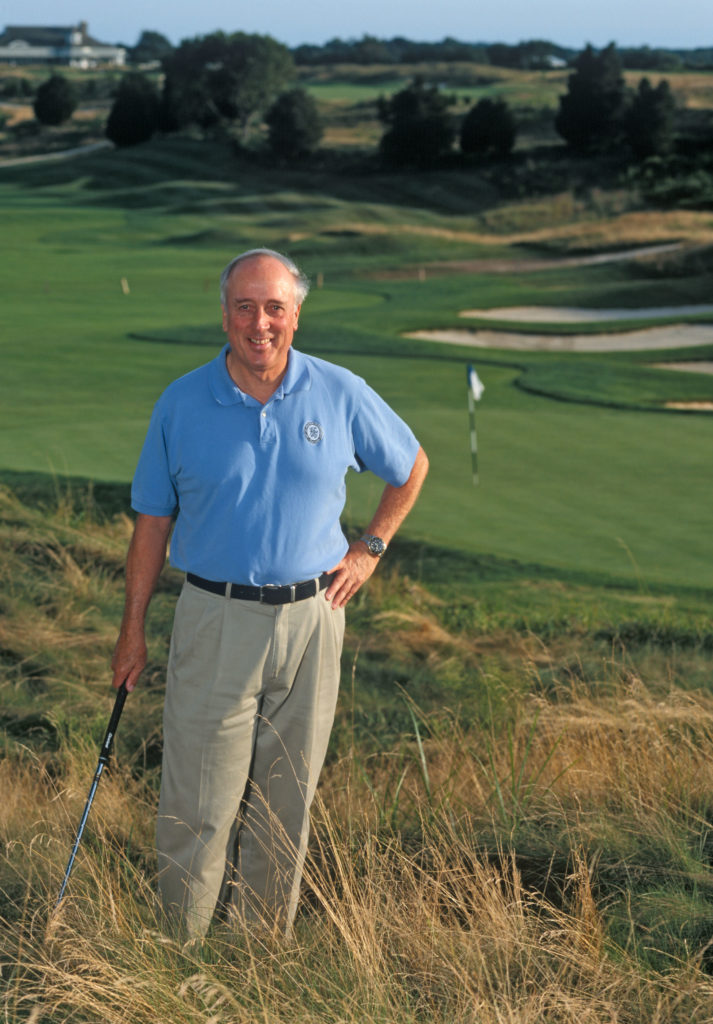 As the only sport with a field of play that partakes of the environment on a grand scale, golf is in a unique position to maintain its fields of play in harmony with nature. Yet only in recent years has the golf industry made progress toward resolving the perceived conflict between the goals of environmental activists and those of golf course developers, operators and designers.
Since the incorporation of Rees Jones, Inc. in 1974, our firm has approached each project with a keen awareness of our responsibility as stewards of the land. We have long embraced the notion that golf courses can, and should, co-exist in harmony with the landscape while benefitting the environment. We believe a properly designed and maintained golf course can protect wildlife habitat, preserve native vegetation, conserve water resources, buffer open green spaces from development, and create bio-filters that sequester carbon.
With the safeguarding of wetlands, the recent move to higher ground has enabled us to utilize more interesting natural ground contours in our designs. We strive for firm fairways and greens–surfaces that favor a better standard of golf. We are mindful of aesthetics, but how a course plays rather than how the turf looks has become the primary focus for golf worldwide in the 21st century. With water conservation a key issue in many regions, we make a conscious effort to limit formal turfed areas to the minimum amount necessary for enjoyable golf.
Because each site is unique, with its own set of planning issues and environmental challenges, our development responses by necessity must be well-planned and properly executed in order to assure a long-term solution that benefits the environment or restores broken land to better use.
In most cases, a team of environmental specialists is required to successfully develop and implement a research-based and scientifically supported solution. As golf course architects, we are typically required to interact with and coordinate a "stable" of experts, often on behalf of the owner. These specialists can include engineers, hydrologists, chemical scientists, soil scientists, botanists, archaeologists, hydrologists and avian experts, among others. It is our job to ensure that each of the issues addressed by these individual consultants are seamlessly intertwined within an overall design that assures environmental compliance and promotes a rewarding and sustainable golf experience.
In the past few years, increased environmental awareness, more stringent regulations, new construction and maintenance requirements, as well as the general character of the sites on which we are now asked to work have heightened the challenge and complexity of our task. The creation of a high-quality golf experience in an environmentally responsible manner requires patience and dedication.
In practical terms, we have extensive experience with jurisdictional agencies, notably how best to approach them. More importantly, we are open-minded team players. We welcome the input of specialists at each project. And we understand that appropriate solutions often require an innovative approach.
We embrace the fact that golf and the environment are inextricably woven together. We are not hampered by environmental constraints. Rather, we have used stringent regulations as a springboard to creativity. Often a seemingly problematic scenario can yield a result that benefits both the golf course and the environment.
Environmental Issues Resolved
The following list provides examples of the diverse environmental issues we have encountered and resolved on past projects.
Atlantic Golf Club (Bridgehampton, NY)
Nantucket Golf Club (Nantucket, MA)
Haig Point Club (Daufuskie Island, SC)
Located course to avoid and/or minimize wetland impacts
Worked with South Carolina Coastal Commission to facilitate placement of tees and greens within the tidal marshes of Calibogue Sound
Consulted with archaeologists to avoid and/or properly recover historic "tabby ruins"
RedStick Golf Club (Vero Beach, FL)
Routed course to avoid any wetland impacts
Worked with a native plant specialist to re-vegetate site (a former sand mine) with aquatic/wetland plants as well as native, low-maintenance upland grasses
Worked with engineers and irrigation consultants to create holding ponds and an irrigation system that utilizes treated effluent as a water supply
Consulted with an avian expert to retain, enhance and create Florida Scrub Jay habitat.
Relocated existing gopher tortoise population to an undisturbed area of the owner's property
Development of a detailed Integrated Golf Course Management Plan (IGCMP)
Ocean Forest Golf Club (Sea Island, GA)
Routed course to preserve and incorporate a series of natural dunes
Routed course to avoid impact of numerous freshwater wetlands and tidal marsh
Consulted with project engineer and Georgia Department of Natural Resources to properly locate and construct holes immediately adjacent to the Hampton River and the Atlantic Ocean
Incorporated zoysiagrass turf to help reduce overall use of water, fertilizer and pesticides
The Golf Club at Equinox (Manchester, VT)
Consulted with Environmental Turf Services to develop a mechanism providing secondary filtration of leachate exiting the outfall drain of specific putting greens. Outfall drains were connected to the top of a vertical column. These columns, or "peat boxes," were filled with a sand/peat mix; outfall leachate percolated through this, further filtering any traces of remaining nutrients or pesticides. Filtered water then exits the bottom of the "peat box" and discharges across a supplemental, grass filter strip.
Development of a detailed IGCMP
3 Creek Ranch Golf Club (Jackson, WY)
Worked with Environmental Turf Services (ETS) to develop a multitude of Best Management Practices (BMP) protecting three Class A trout streams
Development of a detailed IGCMP
Implementation of strategically located "vegetative filter strips"
Implementation of strategically located silt retention areas
Lake of Isles North & South Courses (North Stonington, CT)
Built a drainage system with a network of pumping systems connected to drainage filtration swales. Entire 36-hole golf complex benefits from the native grasses that essentially collect and clean away chemicals
The Golf Club at Briar's Creek (Johns Island, SC)
Piping system built to completely collect all surface and subsurface water and return it to irrigation lakes created for this purpose. In the case of sensitive wetland areas, specifically created charcoal filtration beds were also utilized.
Kohanaiki (Kailua-Kona, HI)
On the coastal holes, employed a complete system of liners, pipes and pumps to contain all surface and subsurface water and direct it to charcoal filtration basins upstream
South Course at Corica Park (Alameda, CA)
The site imported thousands of truckloads of reclaimed dirt and sand from various tunnel digs and other Bay Area construction projects which has been brought in to raise the course and improve drainage and surface contouring. This same reclaimed dirt made it possible to implement a comprehensive drainage and water-harvesting system, preparing the South Course for both long dry spells and the heavy rains.  Drought-tolerant turf grasses were used on the fairways and native strains in the out-of-play areas, so that the course is playable 365 days per year.  This type of grass is perfect for the recycled water used to irrigate the course. In addition, the course has one of the most sophisticated irrigation systems installed at any golf course in the country. Underneath it all is a massive water-harvesting system that includes close to 690 catch basins and around 180,000 linear feet of drainage, with the course's cart paths designed to help collect runoff.The reuse of materials doesn't stop at the soil import but the theme was carried through other areas of the project. The cart path was constructed using recycled AB base rock and the bunkers were lined with synthetic turf from the old driving range and the Raiders football team's practice field.