Corica Park South Course: A Sustainability Standout
Courtesy of Andrew Hartsock
Golf Course Management
Recycled materials — including secondhand turf from the Oakland Raiders — drought-tolerant grasses, rainwater collection and targeted irrigation are all components of the new-look California course.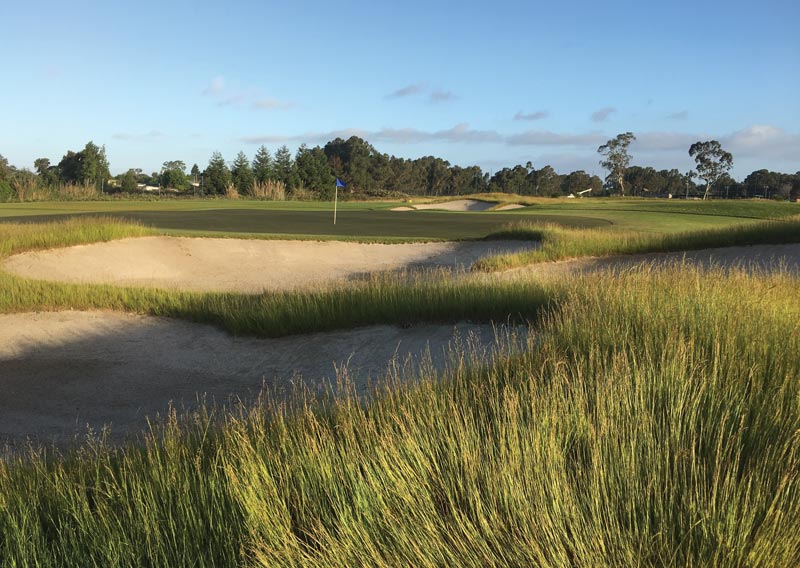 Jason Cook would be among the first to admit that more than a few things had to fall into place for the renovation of the Corica Park South Course to be as successful as it was.
"It was built to be a sustainable golf course that would last through generations," says Cook, GCSAA Class A superintendent and a 23-year association member who, along with Vinny Paul, serves as Corica Park's day-to-day superintendent. "We were fortunate to have a lot of resources available to us."
As a result of those resources — not to mention forethought, logistical coordination and tons of work on multiple fronts — the renovated South Course at Corica Park in Alameda, Calif., has been hailed as a model for environmental stewardship since its June 2018 reopening following a 3½-year transformation project.
In December, Golf magazine declared it the top municipal course renovation of 2018. Two months later, Audubon International and Ewing Irrigation & Landscape Supply presented Corica Park South and its management firm, Greenway Golf, with the first Water & Sustainability Innovation Award, which recognizes landscape companies, organizations and municipalities for sustainable, water-efficient projects.
Corica has a storied history. The now-45-hole facility opened in 1927 and has had a few names over the years, including Alameda Municipal Golf Course; Chuck Corica Golf Complex, a moniker it took to honor the city's former mayor, in 1992; and its current name, after a rebranding in late 2017.
William Park Bell designed the original 18-hole course, now known as the Earl Fry North Course, and Desmond Muirhead partially redesigned it in 1967. That course is undergoing its own renovation, nine holes at a time, with an eye toward a full reopening in 2020.
Bell's son, William Francis Bell, designed the Jack Clark South Course in 1957; it was partially redesigned by Robert Muir Graves in 1977.
Greenway came on the scene in 2012 and signed a 40-year lease on the property — and quickly set about transforming it, from the driving range to the Mif Albright 9 par-3 course, which Golf.com in 2018 named one of the top 13 par-3s in the country.
At least some of that earlier renovation work served as a laboratory of sorts for the South Course redo.
Take, for instance, the South Course's grassing. The fairways were sprigged with Santa Ana bermudagrass in a nod to its drought tolerance. Greens are Pure Distinction creeping bentgrass. Roughs are ryegrass, collars are Seaside II bentgrass, and bunker edges are Agrostis pallens, a cool-season bentgrass native to California.
"For us, it wasn't a question," Cook says. "There was no other direction for us to go from a grassing standpoint but to include drought-tolerant warm-season turfgrass as part of the renovation."
Crucial to that plan's success was an intricate irrigation system that was designed to utilize its 2,729 golf heads and additional 2,486 low-precipitation sprinklers to target turf types specifically. Water use on the fairways is down 40 percent since the Santa Ana regrassing.
"Anything we could design and install to limit our off-target water use was installed," Cook says.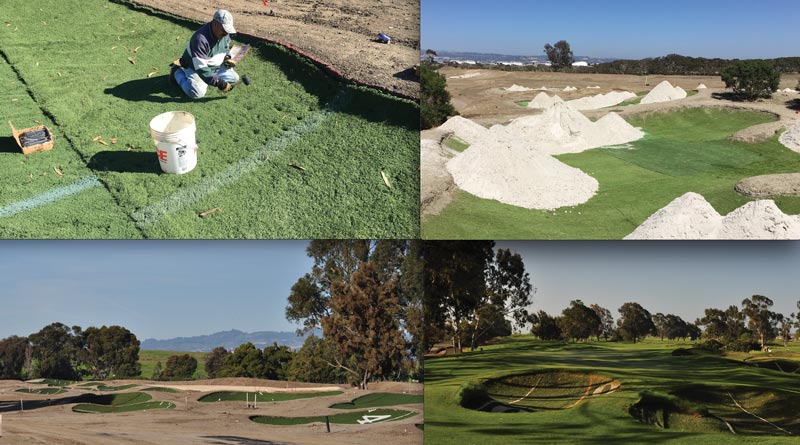 That turfgrass sits atop another Corica oddity. Greenway took thousands of truckloads of inert fill — from regional construction, including excavation for a Bay Area Rapid Transit tunnel — and built up the site to raise it above the water table, comply with regulations resulting from the course's location on an old landfill, and add contouring for the redesign by Rees Jones and associate Steve Weisser in conjunction with Greenway's Marc Logan and George Kelley.
That trucked-in fill had a large amount of dune sand, which, after soil import, rough shaping and subsequent drainage/irrigation installation, was used to cap the entire course. The sand helps in the course's water reclamation, speeds drainage and contributes to the course's Australian Sandbelt vibe.
"Without that proximity and access (to the fill), the scale of the renovation and sustainability of its infrastructure would not have been as grand or successful," Cook says.
The course was paid to take that fill, and it was also able to take advantage of used synthetic turf, some of which was ripped out during the renovation of the Oakland Raiders' training complex. That secondhand turf — along with reused artificial liner from the range renovation — lines the South Course's bunkers.
"There were a lot of things that otherwise would have gone to the landfill," Cook says.
Underneath it all is a massive water-harvesting system that includes close to 690 catch basins and around 180,000 linear feet of drainage, with the course's cart paths designed to help collect runoff.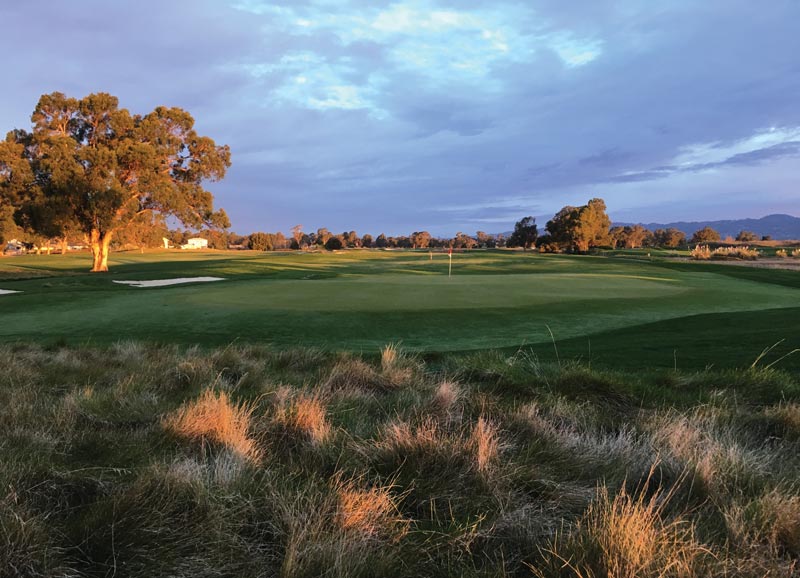 All of these efforts were designed with sustainability in mind, to reduce inputs while presenting a course that's entertaining, playable and capable of standing up to high traffic.
It's all interwoven. The grassing plan wouldn't be possible without the irrigation, which wouldn't be possible without the water-harvesting system.
And none of this would have been possible, Cook says, without Greenway Golf and its vision.
"A lot of things came together to make this possible," he says. "Hopefully this will stand as a model for what renovations can be."