McLemore Returns to Bergin and Jones for Second Course on Mountain
Richard Humphreys
Golf Course Architecture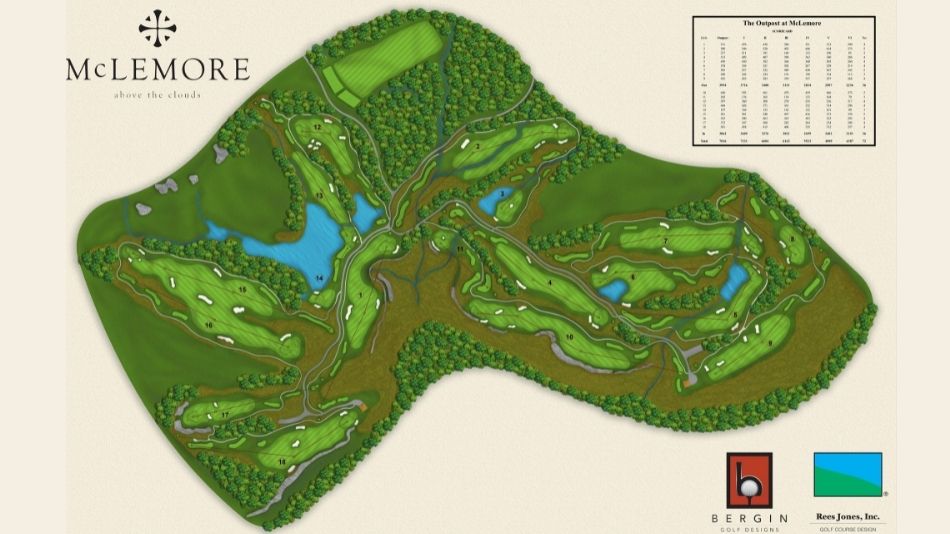 The Georgia resort McLemore on Lookout Mountain has hired Bill Bergin and Rees Jones to design a second eighteen-hole course, The Outpost.
The resort's Highlands course, which opened in 2019 following a major redesign by Bergin and Jones, has proven to be a success with various award wins and full tee sheets. McLemore president William Duane
Horton therefore sought to add a new golf offering that would help take the destination to the next level.
"We discovered a piece of land that's like nothing else," said Horton, in a video announcing The Outpost project. "This opportunity is one that can make McLemore even better than it is, which is hard to imagine as we've already got a top course that has one of the best finishing holes in golf. We say we're 'above the clouds', but this is going to launch us to new heights."
"The natural characteristics and the views from the site are so spectacular that we will be able to create a classic golden age style design," said Jones. "The opportunities for unique and different characteristics for every hole are virtually unlimited. This site is a golf course architect's dream."
Bergin said: "The routing takes full advantage of the property's cliff edge while giving all holes a view of McLemore Cove and Pigeon Mountain."
Bergin and Jones aim to create a mountain course that is a comfortable walk from the member tees but can also challenge the top golfers, with the layout playable at over 7,800 yards. The routing will feature mountain streams, lakes and waterfalls.
Jones said: "It's much like when Bobby Jones and my father Robert Trent Jones went all around Atlanta to find the best site for golf. They looked at site after site, rejecting a dozen before they found one perfect for Peachtree… I think Duane has found a Peachtree for Bill and myself.
"It is a mountain site with a seaside feeling. This course could host a major."
The course will also have five holes located along a mile-and-a-half-long cliff edge – the par-four first, par-three eighth, par-four ninth, par-five tenth and par-four eighteenth.
Fairways will be grassed with zoysia, greens will be bentgrass, and playable areas will be framed by natural areas, a combination of fine fescue and broomsedge grasses.
"We know this is going to be one incredible golf course," said Bergin. "It's golf first and that is such a unique opportunity. While it's a big course, on a spectacular canvas, we will make the small details matter. It'll feel like this golf course has always been here and this land was meant for golf."