New Playa Grande Golf Course In The Dominican Republic Ranks Among The Caribbean's Best
Courtesy of Mike Bailey
Golf Advisor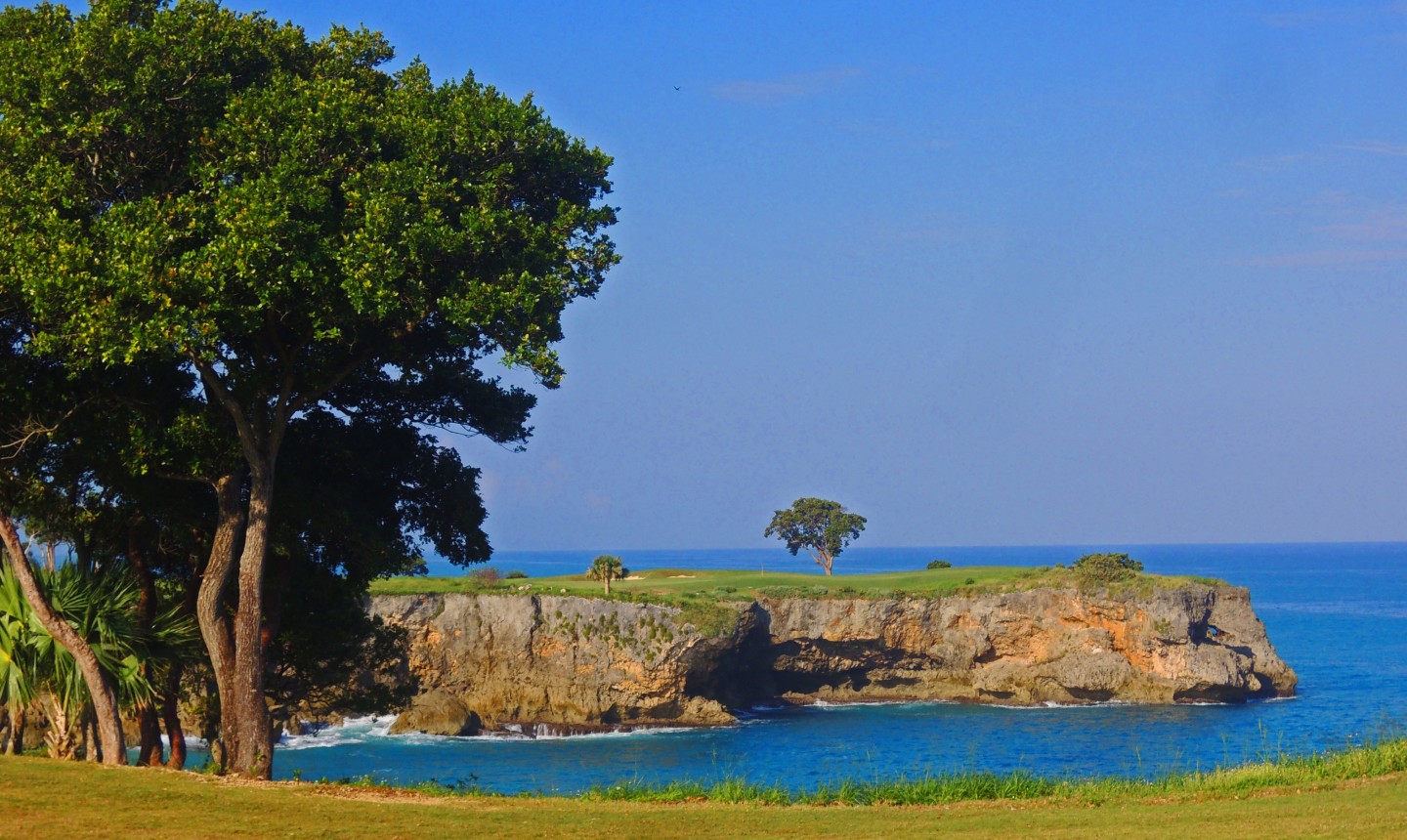 RIO SAN JUAN, Dominican Republic — With cliffs and the pounding blue and white surf of the Atlantic, Robert Trent Jones Sr. had a special backdrop for a championship course when he designed Playa Grande Golf Course on the north shore, also known as the Green Coast, of the Dominican Republic.
In fact, the last course the legendary designer created outside the United States before his death in 2000 (it opened in 1997) had sort of a cult following. Before new highways were built, Playa Grande was a good five or six hours from its more famous counterpart of the other side of the island, Casa de Campo and Pete Dye's famous Teeth of the Dog Course. So Playa Grande wasn't exactly easy to get to, and it didn't have an international reputation. But good players who frequented the DR knew about it, and they would make the trip for some variety.
Back then, there was a modest hotel — the Allegro Resort, which costs about $60 a night — and not much else on site. Closer to Puerto Plato Airport, which is about 90 minutes by car from Playa Grande G.C., there's another RTJ course, Playa Dorada, which opened in 1979. It got more traffic, but Playa Grande had the better setting. Now, after son Rees Jones got his hands on his father's work at Playa Grande, the game is changing.
"This golf course has been under the radar for more than 18 years," Rees said of the newly reopened Playa Grande. "Now, people are going to be stunned."
Indeed, the new version of Playa Grande has more than Rees Jones' stamp of approval. It's completely redesigned, including a back nine that was rerouted to bring the ocean more into view and play.
It's also now the amenity of the new Amanera Resort, the only one of 30 Aman Resorts around the world to have its own golf course. And If you're not familiar with this brand, know this: the casitas run close to $2,000 a night. For now, you have to be a guest of the resort or a member of the private non-equity club to play the golf course, although the club will allow limited outside play on a case-by-case basis. Many of those outside players will undoubtedly come over on helicopter and will not blink at the $325 green fee. And while the Amanera knows it has a beautiful golf course, they aren't golf people. As Rees Jones modestly said, "They don't know what they have."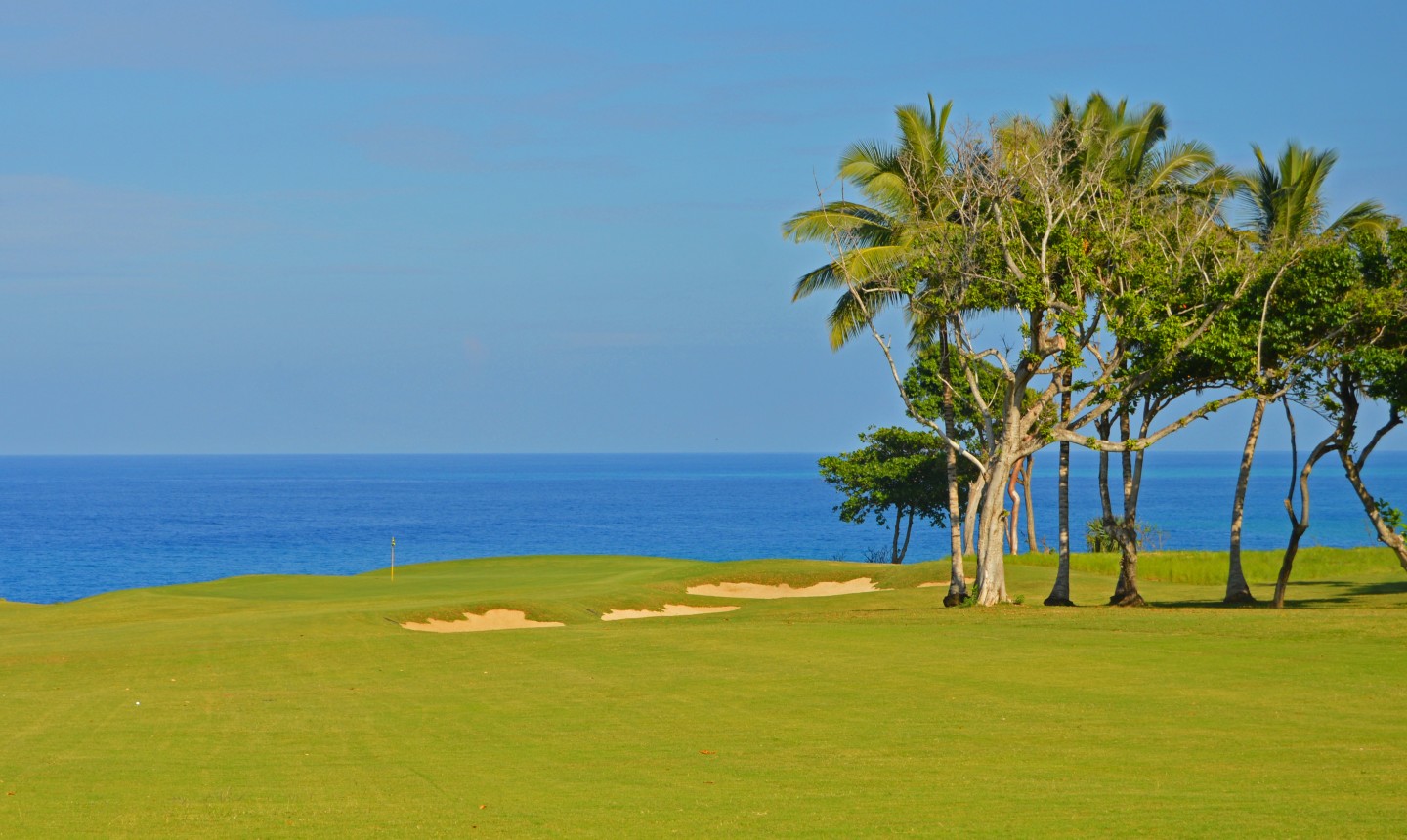 This isn't your father's golf course
Rees Jones — in addition to his many original golf courses — has of course done many high-profile redesigns, whether it's his father's courses or one of the many U.S. Open venues such as Torrey Pines South and Bethpage Black. This is a special site, though. The Atlantic is visible from all 18 holes. The finishing stretch runs along the coast, and all the par 3s are perched right above the water. There are doglegs, forced carries and new bunkering and new greens (holes 6 and 7 used to share a green, but no more).
Jones lowered his father's greens to bring the ocean back in view. He built wind-swept, coast-style rugged bunkers and positioned them not only to catch tee shots — there are several center bunkers now — but also to frame holes and protect greens and give it a more classic look. And now there are 10 holes that run directly along the ocean, the most seaside holes of any golf course in the Western Hemisphere.
The course measures 7,259 yards from the tips, which is marginally longer than the original course. But you can also play it from 5,230 yards, which is the first set of six tee boxes. The fairways are generous, so if you play up, it's easy off the tee. But if you play back, there are some forced carries, most notably the dogleg left par-4 ninth, which goes over a piece of the sea, and there are certainly some forced carries on approaches, although in every case, lesser players can play around them.
All the holes are distinct, though the finishing stretch is most memorable. While the 13th, a long par 4 with a well protected green is the no. 1 handicap hole, Playa Grande really gets interesting with the par-5 15th, a dogleg right that plays toward the Atlantic. Big hitters will have a shot at the green, but it comes with the risk of missing left and finding the ocean. The 15th is a par 3 that runs along the coast, and the par-4 16th is a dogleg right where the tee shot must be positioned to set up an approach to a green on the other side of a cliff. The par-3 17th is perched on a peninsula jetting out into the ocean (ala Pebble Beach's 17th), and the 18th is a terrific risk-reward par 5 with the ocean on the right. The layout will entice big hitters to chance a 235-yard approach over the water to try hit the finishing hole's green in two.
Amanera Resort more than matches the golf course
This all came about after Dolphin Capital Investors, a luxury real estate company, bought the more-than-2,200-acre resort and development property back in 2008 and entered into a joint venture with Aman Resorts, which has since built a 40-villa luxury resort hotel overlooking the Atlantic. (A limited number of branded residences — the Amanera Villas, which range from two to six bedrooms — are available for purchase.)
The brand new Amanera, designed by award-winning architect John Heah, is unique. Its free-floating structure brings in the ocean environment. Infinity pools drop off into the surf, and the villas are appointment with every amenity possible, including remote shades to cover the windows, which offer 270-degree views of the coastline, separate showers and deep tubs, luxury living area and large his and hers walk-in closet. At Amanera, there are said to be four staff members for every guest, yet they seem to operate in stealth.
Dining at the restaurant is, of course, gourmet, offering a blend of local dishes with the finest steaks, local seafood and Dominican-inspired dishes and desserts. There's a bar, where you can sample the best spirits, including Dominican rums and cigars, a library, private beach and other activities.
And getting there is becoming easier than ever. There are actually two airports within close proximity of the Amanera Resort and Playa Grande. The aforementioned Puerto Plata is serviced by American Airlines, which flies directly from Miami, Newark, JFK and Toronto. Jet Blue also offers direct flights from JFK to Samana Airport in the Dominican Republic, which is a little closer to Playa Grande than Puerto Plata.
A cheaper option may be to fly into the capital city of Santo Domingo, which is serviced by more airlines, but is a little farther away, about a two-and-a-half-hour drive on the new highway.