Second Chances: Revamped South Course At Corica Park Reopens
Courtesy of Jason Scott Deegan
Golf Advisor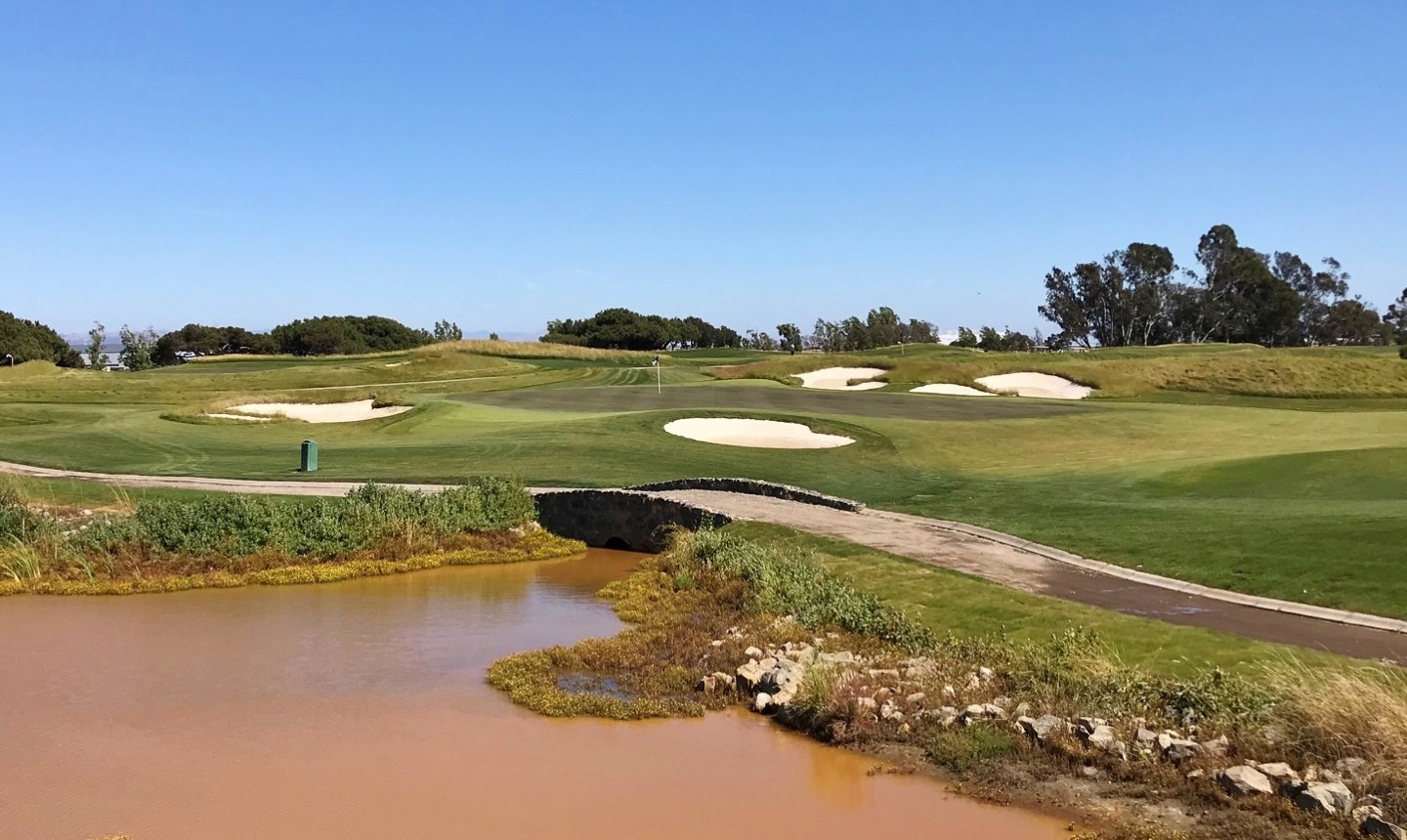 ALAMEDA, Calif. – The Bay Area public golf scene got a whole lot better with the unveiling of the new look South course at Corica Park.
Rees Jones hit the ceremonial tee shot June 20 to signal the triumphant second chance for one of golf's most versatile municipal facilities. The men behind the vision of Corica Park – Greenway Golf's George Kelley, Ken Campbell and Marc Logan – basked in a beautiful day, where most of the golfers in attendance at the VIP event praised the Australian-themed links.
This 45-hole facility was once the second-busiest muni in the country behind Torrey Pines. It's not hard to envision this place becoming a second home to be proud of for many local golfers of all skills and ages. While the VIPs were playing, a junior tournament was being held on the older, shorter, more affordable North course. Plenty of other people were using the Mif Albright par-3 course modernized in 2014, the expansive all-turf range and restaurant without interfering. Linksoul founder John Ashworth flew up from SoCal to show off his idea of a modern pro shop, a Linksoul Lab stocked with stylish shirts, shorts, pants and "Make Par, Not War" hats, along with other novelties.
Kelley, a former pro who is the CEO of Greenway Golf, spent the event beaming like a proud papa. At one time, there was talk of shrinking Corica Park to just 18 holes. That negativity toward the site and golf's future has shifted toward an immediate plan of redoing of the North course as well.
This project serves as a mulligan of sorts for Kelley. His first-born golf course, Stevinson Ranch, sadly shuttered in 2015, but Corica Park's location off of Interstate-880 between the San Francisco Bay and the Oakland Airport should ensure this one survives and hopefully thrives. He played a preview round last week with Golden State star Steph Curry, who loves the game.
"Those of you that were familiar with the old South course, you will be absolutely amazed at the transformation," Kelley said. "This is not a renovation. This is a brand new golf course. Everybody is going to find it very playable."
Government officials around the country should look to Corica Park as a blueprint on how to revive their aging municipal courses and facilities. It takes time, patience and, of course, money. But most of all it takes the courage to make the decision to save what's there in the first place.
The South Course
Jones compared Corica Park's 6,874-yard South course with Torrey Pines, Bethpage Black and his rebuilding of the Bayou Oaks City Park South Course in New Orleans in that it will be great for the community at large.
"The Australian style is really good for the public," he said. "We really emphasized the ground game on this course. This course will change dramatically every time the wind changes. It will be easier to play on the ground. The greens are low profile. They've got a lot of great contour in them."
The construction crew working the four-year project moved more than one million cubic yards of dirt – more than 120,000 truckloads – to raise the 135-acre site an average of eight feet. The new grasses will save significantly on water costs and promote a firm-and-fast ground game. The more than 110 bunkers, many edged with shaggy grass, give a mostly featureless site definition. They are lined with recycled turf from the old practice field of the Oakland Raiders.
"The bunkers direct you around the golf course," said Jones, who kept many holes in their original footprint. "They are the ones that are Alex Russell in style. They are very easy to get in, but they are not going to be that hard to get out." Alex Russell, if you didn't know, is famous for his work with Dr. Alister MacKenzie designing Royal Melbourne and Yarra Yarra in the Australian Sandbelt.
What most impressed me was the hole variety. Five par 4s play less than 360 yards from the 6,303-yard blue tees. Thankfully, only three par 4s stretch longer than 405 yards. There's nearly 100 yards separating the shortest par 5, the reachable 464-yard 15th, from the longest, the tough 559-yard 17th. More than 100 yards separate the shortest par 3, the 108-yard wedge at no. 5, to the longest, a 220-yard three-wood at no. 11. As drivable par 4s go, the 262-yard eighth hole shoots right to the top of my favorites list. Most anybody can reach, unlike the dozens of other short par 4s I've played that require a once-in-a-lifetime tee shot to succeed.
Kelley said clubhouse renovations should be complete within a couple of months, including work on the beautiful brick patio with two fire pits adjacent to a putting green that's coming soon.
Alameda city residents can play for $40 weekdays and $50 on weekends with $30 twilight and senior rates. The general public's green fees will fluctuate between $65-$105. New 2018 Yamaha Drive2 Electric Cars with GPS cost $15 extra. The flat land suits both walking and Golf Boards ($20 weekdays/$25 weekends).