The Golf Course That Never Sleeps
Courtesy of Guy Cipriano
Golf Course Industry Magazine
A renovation helped a New Jersey municipal course achieve a major feat. Now comes the next challenge — handling 70,000 rounds per year.
The City That Never Sleeps lurks less than 20 miles from Galloping Hill Golf Course. Anybody can play Galloping Hill almost anytime, thus making it The Golf Course That Never Sleeps.
Northern New Jersey boasts an abundance of private golf courses and only one facility like Galloping Hill. A well-plotted renovation allowed the greenspace along the Garden State Parkway to become the first public course to host the New Jersey State Open this past summer, a milestone 95 years in the making.
Golfers living near New York City without private club memberships are a hardy species. When the weather clicks, and sometimes when it doesn't, Galloping Hill will host 70,000 rounds in a calendar year. Before proceeding any further, stop and consider that total: 70,000 rounds at a facility in a region with three months where the average temperature doesn't eclipse 40 degrees. "This has always been a machine," Armando Sanchez says.
Sanchez is the director of golf operations for Union County, New Jersey, which started a bold process in 2009. The county wanted to add luster to a short-circuiting machine that 250,000 cars pass each day. County leaders agreed in 2010 to invest $17.6 million into Galloping Hill. Plans included constructing a clubhouse expansive enough to host banquets and weddings and serve as the New Jersey State Golf Association headquarters and adding a building to complete a learning center.
The plan also involved transforming Galloping Hill into a course comforting regulars and testing elite players. The machine needed to be practical and high performing because the NJSGA wanted to bring its signature event, which has been contested at prestigious private clubs such as Plainfield, Baltusrol and Ridgewood, to a course enjoyed by the masses. Sanchez says former NJSGA President John Murray considered conducting the New Jersey State Open at Galloping Hill, the Garden State's version of bringing the U.S. Open to Bethpage Black, the mighty municipal course on Long Island.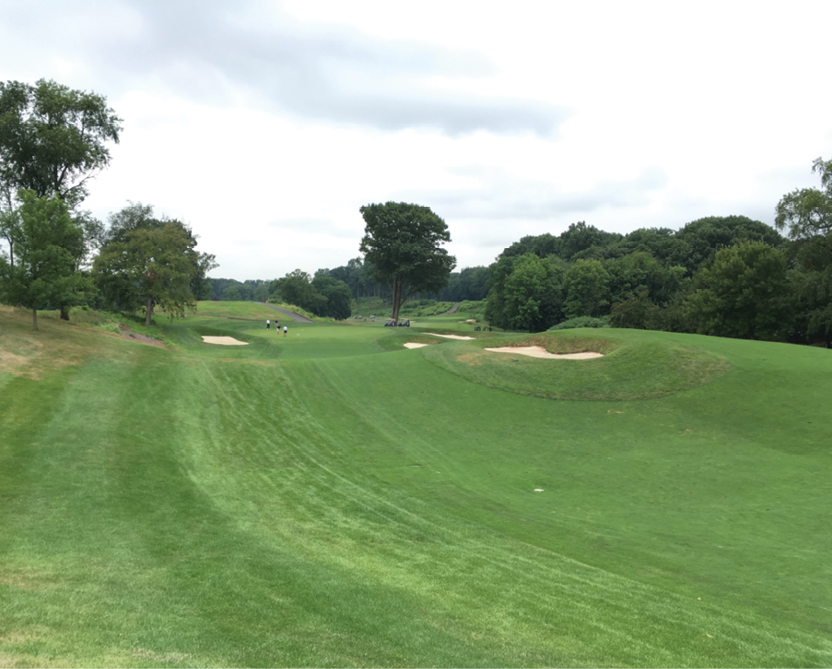 Galloping Hill, though, couldn't sleep during renovations. Union County was down to two golf courses after it shuttered Oak Ridge in 2008. The county privatized its remaining courses in 2010, beginning a multi-year agreement with KemperSports. The agreement has since been extended.
Adding Russ Harris to the Galloping Hill staff was another key decision during the early phases of the transformation. Harris, a northern New Jersey native, spent eight years as the assistant superintendent at county-owned Ash Brook and then two years as Galloping Hill's assistant superintendent. Sanchez elevated Harris to head superintendent in 2011. Nobody needed to explain the stakes or obstacles. Harris has a deep personal connection at Galloping Hill. Working at the course as a teenager sparked an interest in golf course management.
"Losing my shoes," is how Harris explains his early memories of Galloping Hill. "I literally remember walking a foot off the fairway and losing my shoes because that's how wet the place was," he adds. "The first thing we did was turn the water off. I'm learning more and more everyday about how much farther you can push it, how much drier you can maintain it, pushing 70,000 rounds per year. If we are wet, that's when we see more damage."
Irrigating less reduced the daily damage inflicted on the course, but the county needed outside assistance to create a championship course. Led by architect Steve Weisser, New Jersey-based Rees Jones Inc. started developing a long-term plan in 2011. A key part of the plan included involvement from GCBAA member Total Turf Golf Services, which had worked with the county on improvements on Galloping Hill's nine-hole learning course and practice green. Experiences with municipal golf projects allowed Total Turf to wade through the bid process.
Renovations, especially when public money is involved, are always tense. And this one proved demanding because a builder would be forced to work around hundreds of golfers each day. "We were absolutely not closing," Sanchez says.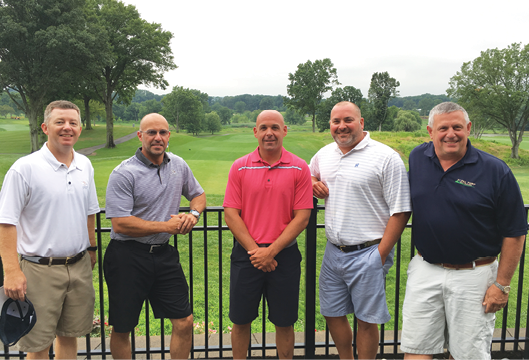 Renovating while staying open has become the industry norm. Total Turf vice president Greg Hufner says 90 percent of the company's projects are now completed without closing the course. Unless crews are building a new golf course or overhauling every green, operators and members are leery of closing during a project. "It wasn't that long ago that people didn't seem to say much about starting a project in August and closing," Weisser says. "Nowadays it doesn't happen much anymore. Everybody wants to have the golf course and the work done at the same time. They want to live in the house while it's being redone."
If lulls exist at Galloping Hill, they begin in October, and work started in mid-October 2014. Only two holes, Nos. 5 and 16, experienced significant disruptions, according to Hufner. Both holes received rebuilt greens as part of the renovations, while fairway approaches were rebuilt on multiple holes, including No. 16.
All 52 bunkers were "changed in some capacity," Harris says. The bunker rebuild included installing the Better Billy Bunker system, another step in making Galloping Hill a drier course than the place Harris visited as a child.
Our main thing is the speed our maintenance team has to get out there and get off the golf course. We are never going to get out of the way of play. It's impossible for us here. We don't have a maintenance day. We don't have a maintenance half-a-day. 5:15 in the morning you have to get on the golf course and essentially have all our turf mowed and be off the golf course by 8 o'clock. It's just getting better and better at that." —Russ Harris, Galloping Hill
The winter of 2014-15 proved brutal, although work commenced with two uninterrupted months of progress. Crews returned to the course in late March, and work was completed by mid-May 2015.
"We weren't just taking a public golf course and redoing it for a tournament," Weisser says. "Everything was done to make the whole thing work – just basically reclaiming the golf course that was there, taking out trees, expanding the turf areas. We sort of added in the challenge for the state open, but realistically it's for getting golfers through here day after day and taking care of it whether it's things that people don't really see like drainage. Now they have the rewards of it. Now we have something that they can use day after day."
The improvements are helping Harris achieve his biggest maintenance goal: creating efficiencies to handle frantic play. The Galloping Hill crew often resembles a NASCAR pit crew. Every second matters when the machine rolls.
"Our main thing is the speed our maintenance team has to get out there and get off the golf course," Harris says. "We are never going to get out of the way of play. It's impossible for us here. We don't have a maintenance day. We don't have a maintenance half-a-day. 5:15 in the morning you have to get on the golf course and essentially have all our turf mowed and be off the golf course by 8 o'clock. It's just getting better and better at that."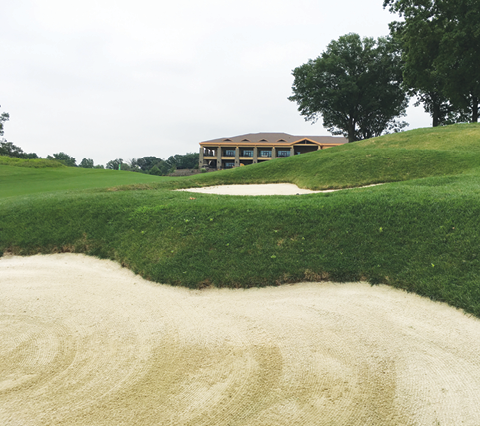 Galloping Hill, which was New Jersey's eighth public golf facility when it opened in 1927, has been modified multiple times, including in the 1990s. Willard Wilkinson, Robert Trent Jones Sr., Alfred Tull, Stephen Kay, Rees Jones and Weisser are among the architects to work at the course. Harris, though, is the only superintendent to prepare the course for the state's best players.
Play was limited to 100 rounds per day during the 10 days leading up to the New Jersey State Open, and the event exceeded internal expectations. Harris says the period offered glimpses of what his team can accomplish when it receives slight respites from filled tee sheets. But everybody associated with the current work – GCBAA member Winterberry Irrigation also has performed work at the course – hints Galloping Hill's best moments are looming. "You can't fix 40 years of problems in six," Harris says. "We knew that from Day 1."
State open conditioning levels magnified the severity of a few greens, and Sanchez says addressing those greens along with further tree removal and drainage additions are among the future improvements being discussed. Weisser and Total Turf President Mark Arrimour, whose companies are linked to numerous high-profile projects across the country, lauded Union County for its commitment to not only pursuing an ambitious project but protecting an investment.
"One thing that's different between this project and other municipal projects is the after care," Arrimour says. "The county gives Russ a budget and Russ performs the work. They have an infrastructure now and a budget to maintain it versus some municipalities where we redo bunkers and you go back two years later and they look terrible. That's a big part of it that they don't understand. When you redo it, if you are going to spend a lot of money to redo it, then maintain it."